The Greater St. Louis Area Home Educators Expo Board would like to express our thanks for another
successful Expo--we set an attendance record this year!
Thank-you to all our hard-working volunteers--both youth and adults!
The Expo would not happen without you!

Thank-you to all of the businesses who donated items or services.
You enable us to keep our registration price low!
Thank-you to all our registrants.
Your enthusiasm and support of the Expo is what makes our work so rewarding!
We hope that this year has been both a blessing and encouragement to you!
Mark your calendar now for next year:
March 19, 20, and 21, 2015!
---
The following items were found at the Expo. To claim yours, please contact Cathy Mullins at Ekcjmullins@gmail.com and she will figure out a way to get it back to you.
Thanks!

Clothing
T-shirt, royal blue, XL, 24 hour fitness left in 2nd floor exhibitor check-in area
Coat, Grey and black, nylon multilayer, target, size small, (A Jim Weiss handout and a mint in the pockets :-)
Small plastic bag of clothes, left on first floor, jeans, red v-neck cashmere sweater and shirt, size small.
Navy blue felt coat, size 8
Rams NFL jacket, grey, size XL
American Eagle hoodie, white XS
Grey knitted scarf
Purchased Items
2 packages of colored construction paper--just purchased in bag
2 Miller's Penmenship papers – just purchased in bag
Miscellaneous
Carter's burp towel, blue with white little bears on it
My Father's World tote bag
Plastic cup with green pears on it
Nintendo DS – plastic holder with 15 little game cards in it!
Small blue water bottle with airplanes on it
3 Harvard Classics hard-bound books: "Nine Greek Dramas"; Vol. 15 – "Goethe, Keller, Storm and Fontaine"; Vol. 16 – "Leo Nikolaevitch, Tolstoy"
1 gray 5 subject notebook with tons of notes and journal thoughts and lessons journaled (someone really needs this back!)
1 black clipboard with lined paper on it
Green clipboard with lots of note about curriculum
Amy Tucker's receipt from FHE membership
Blue tote bag with penguins in a case
1 eyelash curler
Progressive orange foam key chain
2 dice: 1 regular one and 1 8-sided one
1 red hair clip with jeweled flower
1 pastel drawing of a bird…signed "Abby"
1 pastel drawing of the boat…can't read signature
1 AARP card in the name of Carolyn Bergmann
2014 Greater St. Louis Area
Home Educators Expo

March 27-29, 2014
SAME LOCATION!
First Evangelical Free Church
1375 Carman Road
Manchester, MO 63021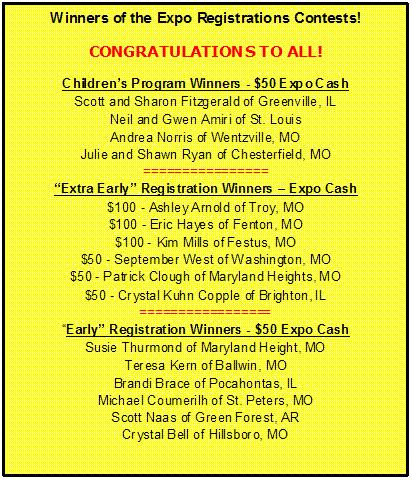 ---
2014 Expo Speakers
(Please click on a speaker's name or picture to read
their biography and descriptions of their presentations.)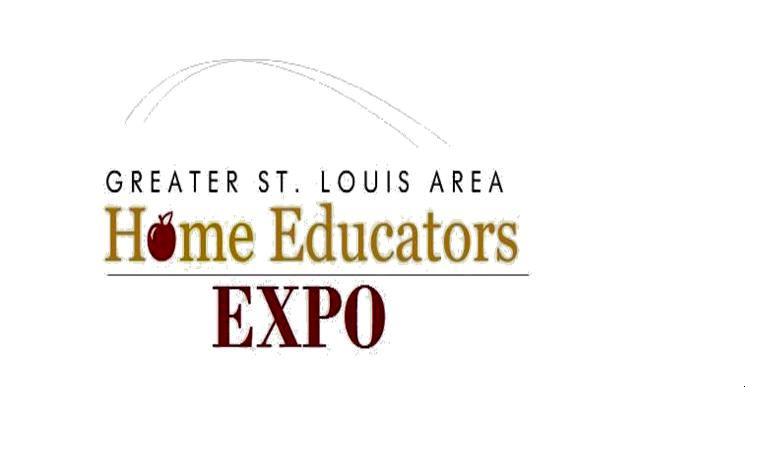 LIKE US ON FACEBOOK!