Mark and Alice Reinhardt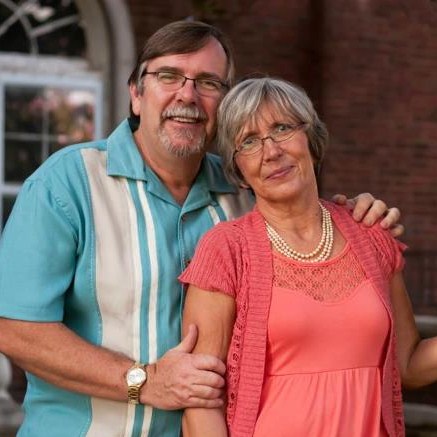 Mark and Alice Reinhardt have been married nearly 35 years (to each other!!) and have 7 children, having homeschooled them all, since the beginning of time (well, it seems that way). They had 5 biological children, then adopted two (natural siblings) from Liberia Africa. Now boasting seven grandchildren as well, the fun never ceases at their house, and neither does the noise level!! Their greatest passion is their family and serving the Lord. Still homeschooling their three youngest, they spend a good deal of time "on the road" having owned and operated Rhino Technologies (conference audio and video production services) since 2000. This allows them to see the country, hear and learn from many amazing conference speakers themselves, and have their family with them, all while running the business too. Mark and Alice have forged a strong commitment to each other over the years, and because of their previous backgrounds, have learned a thing or two about communication and its central role in all relationships. They love to share with others whenever the opportunity arises, like say, at this conference!!
Friday

10:15

Room 372

Change Me, Lord!

Change him. Change her. Change them. Change me! Something needs to change or I'm not going to survive! In this talk, Alice looks at what needs to change to make our marriages better, and takes on the question of how do we make that change happen?

2:00

Room 372

Why Kids Walk Away From the Faith

Young adults are walking away from the church at a staggering rate, conservatively estimated at 75%. In this talk, Alice looks at several questions, including: Are homeschooler's making a difference? Where is the second generation of homeschoolers headed? Are we as homeschoolers just another version of Pharisee, burdening our children with more laws or are we pointing them to the grace of knowing Christ?

Mark Reinhardt's Talk:


Friday

12:30

Room 339

Marriage and Homeschooling

In this talk Mark looks at the ways men and women see things differently, and hopefully helps them come to a place where they can see each other's perspectives more clearly. The use of some mild humor helps the medicine go down, so that by the end of the session both men and women are seeing the other person's world with different eyes.