Upgrade to the next level by adding members or employees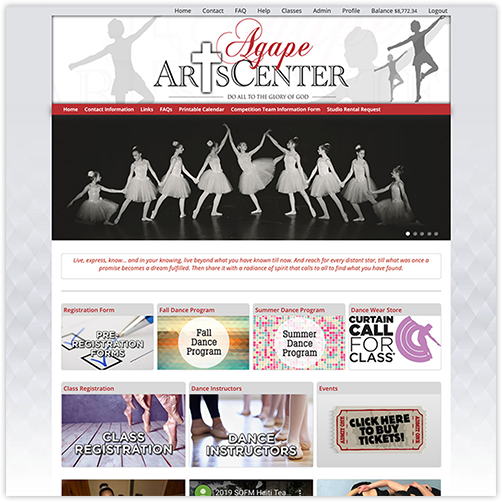 Non-Profit Web Site Includes Event Signups
Agape Arts Center was looking for an inexpensive web site that could communicate to it's members and provide information on their dance programs that they offer. Service-Life provided the custom design work and Agape uploaded their content.
Calendar with Online Sign ups
1-click admin approval or denial for suggested events added by Families
Assign any family in your membership to manage an event sign up
Attach files or link to websites to give your families more details of an event
Automatically maintains a waiting list if an event is full
Categories to organize your activities
Collect fees online after sign up
Coordinator gets notified of sign ups/cancellations via email
Customize information you need from those signing up (age, grade, cell phone, etc.)
Deadline date
Download and print an attendance list
Email those who have signed up
Integrate with PayPal for easy payments
Maximums allowed
Post events for public, members only, or both
Send automated reminder emails
Share calendars with other Homeschool-Life.com groups nearby
Sync with Google Calendar and Outlook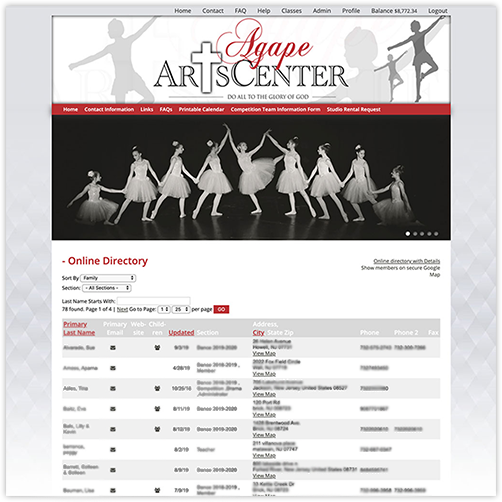 Membership Management
Electronically register members in half the time. Your existing registration form, as well as your Statement of Faith, Code of Conduct, Medical Release, etc., can be converted to online forms for your families to complete. Service-Life has a customizable registration form to help you capture the information you need from each family.
Automate Membership Renewals too! Set up one membership renewal invoice for "All Active Members" in Service-Life's accounting system and click one button requiring all members to refresh their personal information on their next login. Voila! It's that easy!
Need more? Perhaps it is necessary to update your medical release form annually. Simply attach the form to your membership's profile. When they update their personal information they also complete a new medical release form. Who knew going electronic would save you so much time and effort!
To summarize, below are the features of online registration and renewals:
New families register, registrations are held in queue until your admin gives their 1-click approval or denial
Customizable registration form allows you to capture the necessary information
Add your Statement of Faith for a seamless registration experience
Easily convert any form to add to your registration process
Renew with an invoice to all and a required update of their personal info
Add additional annual forms to the profile to be completed during annual renewal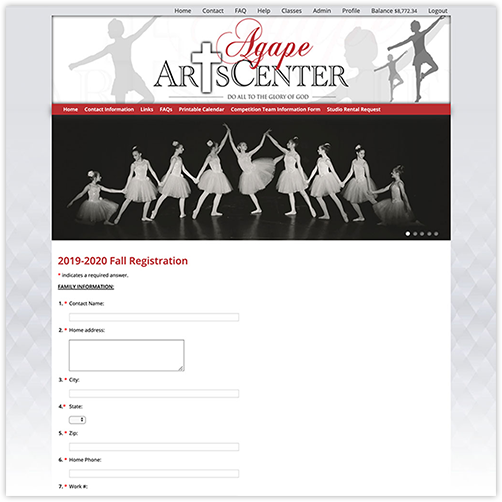 Membership Registration
…with no added effort from you! When a family registers to be part of your group, they are keying in their own information which, with your 1-click approval, will become a part of your Family Directory. It's that easy!
The online directory makes it simple for your families to contact each other. There are even optional Google map links to help families find nearby homeschooling friends.
The Family Directory is a tool for leadership as well. Behind the scenes, you can arrange families with common characteristics into sections. The sections are useful for emailing specific groups or for setting up priority sign ups for classes or events. You have complete control over your online secure family directory. Here are some more features of this multifaceted tool:
Admin can download to Excel
Families can print phonebook style, if enabled
Admin can park families (remove login and email privileges) or delete families
Families can update their own phone number, email, address, etc.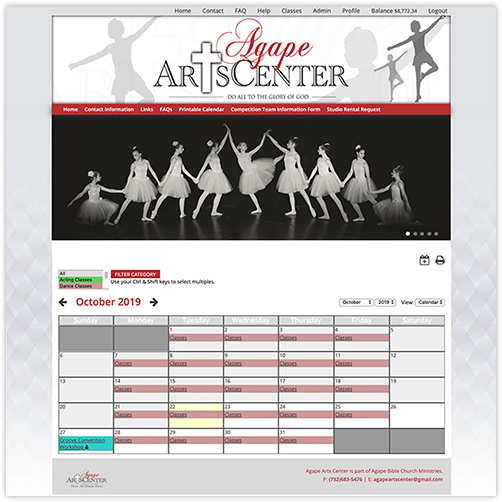 Calendar and Event Signups
Keep everyone informed. Populate your online calendar with your co-op schedule, parent meetings, board meetings, spelling bee, science fair, Christmas party, small group activities, park days…keep everyone informed. It's that easy!
Advertise events. Each calendar entry offers a space to advertise the event (including pictures and graphics), details of the event, location, and full driving directions. Events can be arranged into categories so families can easily identify the listings that interest them.
Features:
Easy point & click setup
Recurring events
Make events public, private or both
Share calendars with other groups in your area who use Homeschool-Life.com
Attach files or links to websites to give families more details of an event
Grant your event leaders permission to post on the calendar
1-click admin approval or denial for suggested calendar posts added by families
Sync with Google Calendar and Outlook